Building partnership

~ 2014-06-25
In the quest providing a new source of information to rural pregnant women, Amakomaya program was launched in Bacheuli Village Development Committee (VDC) in Chitwan District on 21st June 2014. The program was held in Jhuwani Community Library amidst VDC chief, health workers, Female Community Health Volunteers (FCHV), pregnant women, library staffs and local residents. Each FCHVs in the VDC were ceded with an smart phone from Micromax with amakomaya application installed in it. All together, 9 mobile devices were imparted, out of which, 4 were provided by amakomaya and rest 5 were provided by the library itself. This is one of the initiatives and encouraging evidence for accepting Amakomaya (Mother's Love) program from the local level government and committed to finically sustaining it in future. The mobile devices are ceded on temporary contract basis where the FCHVs will have to hand it over back to library if she leaves the FCHV program. Short training program to use the mobile device and the application effectively was organized for FCHVs and pregnant women.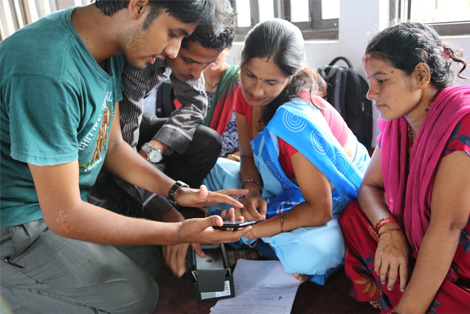 With a happy face, Pabitra Shrestha, a pregnant who attended the program says," I am overwhelmed to attain this program along with FCHVs. Neither had we ever seen such video and audio contents before nor did we know that mobile devices and internet can be used to help pregnant women. We had to visit the health post and calculate our stage/time of pregnancy. But now the application automatically provides us with the stage as well as relevant information to all the pregnant women. We can now call our FCHVs in times of emergency and we hope they will make good use of the device. I personally would like to thank amakomaya for initiating this novel activity in our village." Unique functions in the application have mesmerized all the participants. They are overwhelmed to see a paperless data collection system as well as stage relevant information provided by the app. Archana Dwari Rimal, a FCHV in the VDC says "I had never thought that we will be provided with a mobile phone to run the application. Now we have a device to use during our door-to-door service. It will be very helpful to inform pregnant women about pregnancy issues. It will make our work much easier now."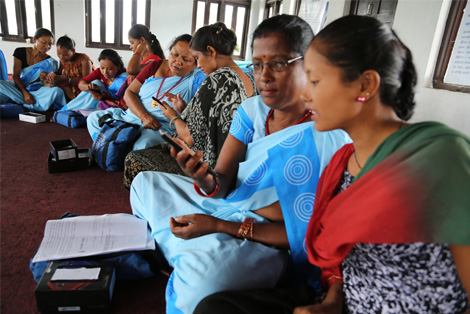 With the launch of Amakomaya program in the library, READ Nepal and Amakomaya (Mother's) Love have done formal agreement to develop more required and updated content related with pregnancy and scale up the program in other parts of district. Suman Aryal, a social mobilize as well as ICT administrator in the community. After the program he expresses"I had known this initiative since last six months. I had used it on my own but now after having required training, I think it has been more effective and impactful. Many pregnant women in this area do not go for Antenatal Care (ANC) visit. But now we can see who has not visited the health institutions and question them about it through these mobile phones. Before we did not know if FCHVs are really working or not but now we can also check if the FCHVs have really visited the pregnant women or not through the records in the device. It will generate a concrete system that bounds pregnant women and FCHVs to be connected to nearest health institutions." Thinking for some time he added, "The only thing I would like to recommend the program is that, the application has separated weekly contents. The audio contents are ok but the video contents are repeated till many weeks. If the video contents could be added, it would bring humongous behavioral change in pregnant women and their families."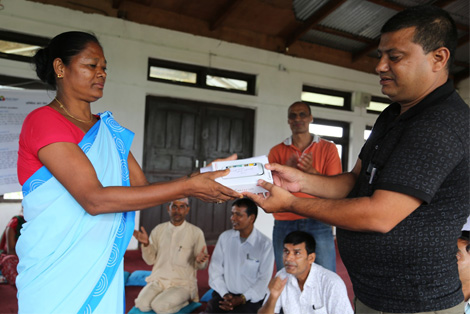 Content development for the application will be done in collaboration with Juwani Community Library. They have an experience of developing such video and audio contents. Apart from providing books to the community, Jhuwani Community Library is a model library that operates to educate community members, women's empowerment, income generation and leadership status of the community members. The library won People's Choice Award with US$ 10,000 at the Libraries for Development Contest in the conference for the project named "My digital friend for my healthy life". The project was aimed to decrease Uterine Prolapsed (UP) cases in the VDC by educating pregnant women and newly married couples through digital contents. They developed 5 video and 40 audio contents related to UP and pregnancy issues and disseminated it through counselors. The project has phased out yielding drastic decrease in UP cases among women in the area and increased use of health facilities. Through effective collaboration the project from the library can be incorporated in the amakomaya program and generate even bigger behavioral change among rural pregnant women and their families.