Information that saves lives

~ 2013-04-05
Binod Poudel, from the Nepalese village of Dandagaun, recently decided to spend NRs 6,000 (US $60) – a very high sum for local standards – to buy an android mobile phone. His main goal: offer his pregnant wife the opportunity to access the "Amakomaya" website
Binod is not alone: since 2011, the Amakomaya project has made life-saving content available in local language via the Internet for more than 350 women, in 10 different villages. They have been registering, downloading and exchanging pregnancy related content reviewed by Nepali experts directly from the website.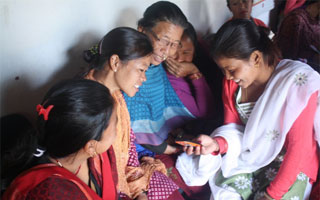 Amakomaya.com was kickstarted in 2011 by Rajendra Prasad Poudel, thanks to the support of an Internet Society grant, with the objective of bringing key information to rural Nepali mothers about pregnancy and pre-natal care. "Amakomaya has encouraged women from the underserved area to come online", explains Rajendra. The idea now is to vastly expand that number using a mobile platform.
Going mobile
Amakomaya has recently received a second grant, this time from ISIF Asia with the focus on extending the original website content so that it could be delivered through a mobile application. Now on its final development stage, the app will not only provide educational content to rural women, but also connect rural health workers with urban based hospital doctors. The system has the potential to empower health workers by quickly delivering crucial information to those who needed it the most.
With 73% of mobile penetration in Nepal, applications like Amakomaya will be able to reach pregnant women in distant areas and make sure they directly benefit from it to reduce Maternal Mortality Ratio (MMR). This is why the project has received wide support and is backed by national health experts and authorities.
"Maternal health is a very critical issue. The recent data shows that MMR is 229 per 100,000 and neo-natal death is 33 per 1000 live birth, which is very high compared to other countries. It is the first time android application for pregnant women is being introduced in Nepal", explains Prof. Dr. Rajendra Wagle of the Department of Community Medicine and Public Health of Tribhuwan University (TU).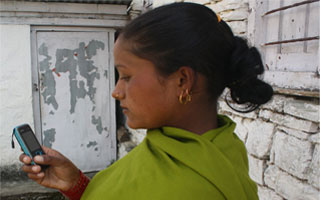 Prof. Dr. Neelam Pradhan, also from Tribhuwan University (TU), is also very positive about the success of Amakomaya: "Maternal Mortality Ratio (MMR) is very high in Nepal. And many Nepalese mothers die untimely due to lack of knowledge about pregnancy. The contents in this application will make pregnant women aware not just about how the development of a baby happens in their body, but also about the dos-and-don'ts during the pregnancy period. Ultimately, the contents will help reduce high MMR in Nepal".
The amakomaya project has been seen locally as a perfect example of a "small initiative that ignites the flame of big change." A project that was initiated after small grant award has now grown to gain the support and cooperation of the government of Nepal, doctors, local leaders and grass-root level health workers. The launch of the program is just a small step towards triggering a big change in maternal health in Nepal.